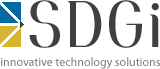 our services
A solid infrastructure creates a reliable foundation to run your business operations. Have you thought of IT today?
Most businesses today rely on their computers, networks and phones for the majority of their business operations. Without IT, these business operations are out of service and your business is down. Managing your IT proactively and efficiently enables you to effectively keep this from happening. With the high cost of maintaining an expert IT staff, many businesses are finding that outsourcing their IT department is the best solution.
SDGi offers you enterprise-level expertise at an affordable cost. Whether your requirement is project-based or ongoing - we become your IT consultants. Our high quality of service allows us to develop long term relationships with our customers and function as their trusted IT consultants and business partners.
what we offer